Details

Written by

Administrator

Category: Network News
WINSTON-SALEM, NC—Readers have favorite characters or characters we love to hate; we enjoy being wowed by epic landscapes or having our brain tickled by tricky mysteries. But what keeps us turning pages is conflict. 
In early drafts, it's easy for writers to forget that dramatic tension is the engine that drives the story. The trick, of course, is to build that tension naturally.
On Saturday, April 24, at 10:30 am EDT, as part of the North Carolina Writers' Network Online Spring Conference 2021, author and longtime workshop leader Zelda Lockhart will lead the fiction session "Dramatic Tension and the Core of Hope vs. Fear."
Registration is open.
The cost is "Pay What You Can." Can you pay $5? $1? $0? Cool, come join us!
In this session, Zelda will lead participants through a fun and enlightening writing exercise from The Soul of the Full-Length Manuscript. This workshop will help you build realistic, authentic dramatic tension for your fictional characters.
Zelda Lockhart holds a Ph.D in Expressive Arts Therapies, an MA in Literature, and a certificate in writing, directing, and editing from the New York Film Academy. Her latest books include Diamond Doris: The True Story of the World's Most Notorious Jewel Thief by Doris Payne with Zelda Lockhart, and The Soul of the Full-Length Manuscript: Turning Life's Wounds into the Gift of Literary Fiction, Memoir, or Poetry. Lockhart is author of novels Fifth Born, a Barnes & Noble Discovery selection and a Zora Neale Hurston/Richard Wright Award finalist; Cold Running Creek, a Black Caucus of the American Library Association Honor Fiction Awardee; and Fifth Born II: The Hundredth Turtle, 2011 Lambda Literary Award finalist. She is Director at Her Story Garden Studios: Inspiring Black Women to Self-Define, Heal and Liberate Through the Literary Arts, and Publisher at LaVenson Press: Publishing for Women & Girls of Color. Organizations globally have recognized Dr. Lockhart's talent as an inspiring teacher, facilitator and public speaker.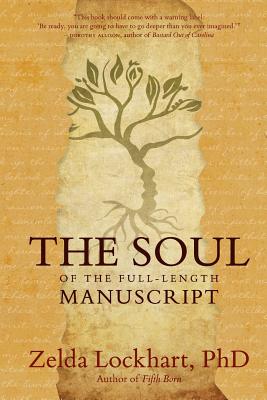 The Soul of the Full-Length Manuscript helps you take the stuff that has been making a mess of your life and use it instead to make art, harmonized with craft. It acts as creative companion for individuals (those with or without writing experience) as they journey through the sharing of an impactful event in life, do exercises that help them transform internal obstacles into external gifts, and then write resolution and outcome. At times, you will feel that the book is designed to produce a new emotional, psychological, and spiritual you and that your resulting manuscript is merely the byproduct. Both are true of the design, because the purpose of art is to make yourself vulnerable about your experiences here in life—to have the courage to be vulnerable about those experiences so that you can connect with others who came here solo like you and will leave solo just like you. And that process of sharing is transformative.
Other features of the NCWN Online Spring Conference 2021 include classes on creative nonfiction, poetry, and the business of books, as well as faculty readings, open mics, and an online picnic lunch social hour. Spring Conference is available to anyone with an internet connection, or who even owns just a telephone. 
Register here.
The nonprofit North Carolina Writers' Network is the state's oldest and largest literary arts services organization devoted to writers at all stages of development. For additional information, visit www.ncwriters.org.
Details

Written by

Administrator

Category: Network News
GREENSBORO—We tried. We planned. We hoped. And we will gather together—face-to-face, not screen-to-screen—again someday.
That day, though, will not be this April.
Due to UNC-Greensboro's ongoing COVID-19 response, we will not be able to hold our 2021 Spring Conference in person. Instead, the entire Spring Conference will move online, via Zoom.
Registration is open.
All dates and times will remain the same, as will the schedule of events. The Master Classes will take place across Thursday and Friday evenings, April 22 and 23.
Most of the Spring Conference will take place Saturday, April 24, including the classes, the Faculty Readings, and the Open Mic Readings. The classes will be decoupled from the genre tracks, so that registrants can choose their classes for the morning and afternoon sessions. In place of "Lunch with an Author," we will plan an online social hour for casual conversation.
The "pay what you can" registration fee will remain in place, as well.
The Spring Conference Master Classes will be led by Eric G. Wilson (creative nonfiction), Valerie Nieman (fiction), and Emilia Phillips (poetry).
Saturday's offerings will include poetry classes led by Ashley Lumpkin and Joseph Mills; a creative nonfiction class on "Writing Trauma," led by James Tate Hill; and "Dramatic Tension and the Core of Hope vs. Fear," a fiction class with Zelda Lockhart. Both the morning and afternoon sessions will include "Authors as Entrepreneurs," led by Terry L. Kennedy and Ross White.
Registration and full details are available on www.ncwriters.org.