Details

Category: Network News
WINSTON-SALEM, NC—Readers have favorite characters or characters we love to hate; we enjoy being wowed by epic landscapes or having our brain tickled by tricky mysteries. But what keeps us turning pages is conflict. 
In early drafts, it's easy for writers to forget that dramatic tension is the engine that drives the story. The trick, of course, is to build that tension naturally.
On Saturday, April 24, at 10:30 am EDT, as part of the North Carolina Writers' Network Online Spring Conference 2021, author and longtime workshop leader Zelda Lockhart will lead the fiction session "Dramatic Tension and the Core of Hope vs. Fear."
Registration is open.
The cost is "Pay What You Can." Can you pay $5? $1? $0? Cool, come join us!
In this session, Zelda will lead participants through a fun and enlightening writing exercise from The Soul of the Full-Length Manuscript. This workshop will help you build realistic, authentic dramatic tension for your fictional characters.
Zelda Lockhart holds a Ph.D in Expressive Arts Therapies, an MA in Literature, and a certificate in writing, directing, and editing from the New York Film Academy. Her latest books include Diamond Doris: The True Story of the World's Most Notorious Jewel Thief by Doris Payne with Zelda Lockhart, and The Soul of the Full-Length Manuscript: Turning Life's Wounds into the Gift of Literary Fiction, Memoir, or Poetry. Lockhart is author of novels Fifth Born, a Barnes & Noble Discovery selection and a Zora Neale Hurston/Richard Wright Award finalist; Cold Running Creek, a Black Caucus of the American Library Association Honor Fiction Awardee; and Fifth Born II: The Hundredth Turtle, 2011 Lambda Literary Award finalist. She is Director at Her Story Garden Studios: Inspiring Black Women to Self-Define, Heal and Liberate Through the Literary Arts, and Publisher at LaVenson Press: Publishing for Women & Girls of Color. Organizations globally have recognized Dr. Lockhart's talent as an inspiring teacher, facilitator and public speaker.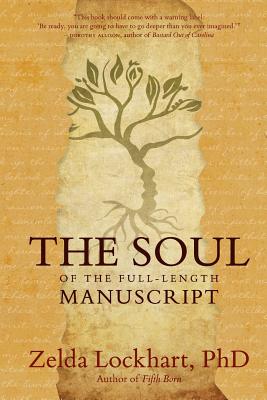 The Soul of the Full-Length Manuscript helps you take the stuff that has been making a mess of your life and use it instead to make art, harmonized with craft. It acts as creative companion for individuals (those with or without writing experience) as they journey through the sharing of an impactful event in life, do exercises that help them transform internal obstacles into external gifts, and then write resolution and outcome. At times, you will feel that the book is designed to produce a new emotional, psychological, and spiritual you and that your resulting manuscript is merely the byproduct. Both are true of the design, because the purpose of art is to make yourself vulnerable about your experiences here in life—to have the courage to be vulnerable about those experiences so that you can connect with others who came here solo like you and will leave solo just like you. And that process of sharing is transformative.
Other features of the NCWN Online Spring Conference 2021 include classes on creative nonfiction, poetry, and the business of books, as well as faculty readings, open mics, and an online picnic lunch social hour. Spring Conference is available to anyone with an internet connection, or who even owns just a telephone. 
Register here.
The nonprofit North Carolina Writers' Network is the state's oldest and largest literary arts services organization devoted to writers at all stages of development. For additional information, visit www.ncwriters.org.
Details

Category: Network News
NOWHERE, NC—For a little while longer, we need to stay home, and not travel across this beautiful state.
So since we're not supposed to go anywhere, why not go places that aren't really there?
The North Carolina Literary Hall of Fame, the NC Literary Map, and the NC Literary Review are launching the online NC Quarantine Literary Tour: a mountains-to-sea virtual journey to fictional places created by some of the state's most accomplished authors.
To celebrate, they will host an online event 7:00 pm, Thursday, February 18. The event is free to join. Registration is closed.
The Quarantine Tour features nine places created by NCLHOF inductees in and for fictional works:
Wellington, from The Marrow of Tradition by Charles W. Chesnutt
Fulton, from Life After Life and other works by Jill McCorkle
Tims Creek, from A Visitation of Spirits and other works by Randall Kenan
Falls, from Oldest Living Confederate Widow Tells All and other works by Allan Gurganus
Colleton County, from the Deborah Knott mystery series by Margaret Maron
Listre, from Raney and other works by Clyde Edgerton
Stone County, from Tall Houses in Winter and other works by Doris Betts
Altamont, from Look Homeward, Angel and other works by Thomas Wolfe
Thicketty Creek, from The Tall Woman by Wilma Dykeman
During the February 18 event, the Quarantine Tour will "stop" at each site through an excerpt by the place's creator, describing their fictional setting.
A cross-section of North Carolina authors will read these excerpts. In addition to McCorkle and Edgerton reading their own work, the tour will be led by 2020 NCLHOF inductees Bland Simpson and Carole Boston Weatherford reading excerpts by Betts and Chesnutt; Appalachian authors Annette Saunooke Clapsaddle and Leah Hampton reading Wolfe and Dykeman; Eastern NC authors Cindy Brookshire and Jason Mott reading Maron and Kenan; and NCWN executive director Ed Southern reading Gurganus.
To take the NC Literary Quarantine Tour, visit http://library.uncg.edu/dp/nclitmap/tours/details/NCLHOF.
Registration for the February 18 event is closed.
Opened in 1996 at the Weymouth Center in Southern Pines, the North Carolina Literary Hall of Fame celebrates and promotes the state's rich literary heritage by commemorating its leading authors and encouraging the continued flourishing of great literature. It is more than a museum housing photographs and archives. Overseen by the North Carolina Writers' Network, the NCLHOF honors North Carolina writers through programs, services, and opportunities for children and adults.
Created by the University Libraries at the University of North Carolina at Greensboro, the mission of the North Carolina Literary Map is to highlight the literary heritage of the state by connecting the lives and creative work of authors to real (and imaginary) geographic locations. Through the development of a searchable and browseable data-driven online map, users are able to access a database, learning tools, and cultural resources, to deepen their understanding of specific authors as well as the cultural space that shaped these literary works.
The North Carolina Literary Review (NCLR) is produced at East Carolina University and published and distributed by the University of North Carolina Press. NCLR publishes poetry, fiction, and nonfiction by and interviews with North Carolina writers and articles and essays about North Carolina writers and the rich literary history and culture of the Old North State. The print issue is published annually in the summer. It is available via subscription and in independent bookstores across the state. Since 2012, a separate, open access online issue is released in the winter.
Details

Category: Network News
WINSTON-SALEM—Isaac Hughes Green, a student in North Carolina State University's MFA Program, has won this year's Jacobs/Jones African-American Literary Prize for his short story "Fifteens."
Green will receive the $1,000 prize, and The Carolina Quarterly will consider "Fifteens" for publication.
Final judge W. Ralph Eubanks selected Green's story, saying "I read this story twice in the same sitting."
"'Fifteens' . . . looks at the pitfalls of race and sports, particularly basketball," Eubanks said. "The father and the son represent two sides of the lure of sports and fame. What I like about this story is that while you feel the son triumphs in spite of the father, the reader also gets a window into the character's inner life: he knows his courses are not challenging, he questions the system of sports, the exploitation of his body, and the precarious nature of fame. The use of the second person 'you' to refer to the unnamed narrator of 'Fifteen' helps the reader connect with the character."
A professional creative for the last five years with work experience that stretches into the last ten, Green is a writer in the Fiction MFA program at North Carolina State University and a 2015 graduate of NYU's Tisch School of the Arts. His writing has been published in The Georgia Review. He was longlisted for The Masters Review 2019 Fall Fiction contest. In 2019, he received the Honorable Mention for the James Hurst Prize for Fiction and was a finalist for the Jacobs/Jones African-American Literary Prize. He has also screened a film in the Cannes Short Film Corner and has won several screenwriting awards and a cinematography award.
Two other stories received Honorable Mentions: "Remembrance" by Taylor Young and "The Meanest Man in the County" by Evette Evans.
Young is a writer and musician from Raleigh, deeply inspired by her experiences both within the Black Church and with the rich musical offerings of Black American Music. She is an active member of Appalachian State University's Writers Workshop and is currently studying to be a music therapist.
Hailing from Washington, DC, Evette Evans worked for more than three decades in local government as a budget analyst and financial manager. After retiring, Evette moved to Pittsboro, where as a student in the Creative Writing Program at Central Carolina Community College, she has pursued her lifelong desire to produce stories. She is a professional storyteller, and a member of several regional and national storytelling organizations. Evans is also an External Associate of the George Ewart Evans Centre for Storytelling at the University of South Wales in Sydney, Australia.
The Jacobs/Jones contest, sponsored by the NCWN and administered by the Creative Writing Program at UNC-Chapel Hill, is open to any African-American writer whose primary residence is in North Carolina. Entries may be fiction or creative nonfiction, but must not have been published before (including on any website, blog, or social media), and must be no more than 3,000 words.
The Jacobs/Jones African-American Literary Prize was initiated by Cedric Brown, a Winston-Salem native and graduate of the University of North Carolina at Chapel Hill. Though Brown has lived in California the last three decades, he still has "deep roots in the Tar Heel State," he said.
"The idea for the prize came out of my desire to read more fiction or creative nonfiction that hits 'closer to home,' work that conveys the rich and varied existence of Black North Carolinians," he said. "I wanted to provide an incentive for Black writers to document our lives through storytelling."
The Jacobs/Jones contest will open again for submissions on November 1, 2021. Full competition guidelines can be found at www.ncwriters.org.
W. Ralph Eubanks is the author of Ever Is a Long Time: A Journey Into Mississippi's Dark Past, The House at the End of the Road: The Story of Three Generations of an Interracial Family in the American South, and A Place Like Mississippi, which will be released in 2021. His writing and essays on the American South have appeared in The New Yorker, WIRED, Vanity Fair, and the Oxford American. A 2007 Guggenheim Fellow, he is currently a visiting professor of English and Southern Studies at the University of Mississippi. He divides his time between Oxford, Mississippi, and Washington, DC.
The Jacobs/Jones African-American Literary Prize honors the nineteenth-century writers Harriet Jacobs and Thomas H. Jones. Jacobs was born in 1813 near Edenton, escaping to Philadelphia in 1842, after hiding for seven years in a crawl space above her grandmother's ceiling. She published her autobiography, Incidents in the Life of a Slave Girl, under a pseudonym in 1861. Jacobs died in 1897 and was inducted into the North Carolina Literary Hall of Fame in 1997.
Jones was born into slavery near Wilmington in 1806. Able to purchase the freedom of his wife and all but one of his children, he followed them north in 1849 by stowing away on a brig to New York. In the northeast and in Canada, he spoke as a preacher and abolitionist, writing his memoir, The Experience of Thomas Jones, in 1854, as a way to raise funds to buy his eldest child's freedom.
The non-profit North Carolina Writers' Network is the state's oldest and largest literary arts services organization devoted to all writers at all stages of development. For additional information, visit www.ncwriters.org.