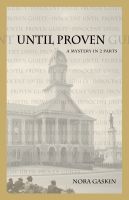 Until Proven: A Mystery in Two Parts by Nora Gaskin
Lystra Books and Literary Services, LLC
$11.95, paperback / $6.99, e-book
ISBN: 978-0-9884164-0-6 (pb) / 978-0-9884164-1-3 (e-book)
October, 2012
Mystery
Available from your local bookstore or www.Amazon.com
Two murders occur in a small North Carolina town, forty years apart. They are murders with the it-can't-happen-here quality that tears into the heart of a community. The same families are involved in both crimes.
The second one exposes all of the wounds that have not healed over the decades and reveals family secrets. The book is a mystery, a family saga, and an examination of what changes and what does not.
Nora Gaskin wants to tell a good story and to tell it well: that's her simple goal. She is a lifelong writer of fiction with occasional forays into nonfiction and poetry. Until Proven: A Mystery in Two Parts, is her first novel.